| | | | |
| --- | --- | --- | --- |
| The Atari Game I Remember Getting New | | | |
Written by Tim Wray
Monday, 29 August 2011 12:26
When I was in fifth grade, or perhaps the summer just before (my memory is getting fuzzy nearly 20 years later), my mom's family had a yard sale.
Of course, I'm sure I was forced to go whether I liked it or not, but I generally enjoyed the family yard sales, because even at age 10, I could appreciate some good new electronics. I was into gadgets and electronics of all sorts as long ago as I can remember.
At this particular yard sale, in roughly summer 1992, my uncle had an Atari 2600 for sale, along with 5 games: Combat, Pac-Man, Demons to Diamonds, Haunted House, and Pole Position. I also recall my oldest cousin having his Game Boy (the 1989 original) next to it, with it's accessories and games wrapped up in masking tape around it.
By this point, I had been an owner of a Nintendo NES since Christmas 1989, and I was intrigued by this game machine, that I had heard of (but wasn't sure where), so I managed to talk my mom into buying it along with an old KMC (Remember K-mart's store brand?) 13" black and white TV. I had it hooked up on the porch of my great grandmother's house shortly after, learning to play those 5 games.
Eventually, I discovered that the local Big-Lots closeout store had tons of old Atari cartridges for the 2600 VCS, and I picked up a few of the $1-$3 specials when I could. I really don't recall what all I found, but Asteroids and Circus Atari come to mind.
One I REALLY remember, though, is getting "Midnight Magic" for Christmas that year. I played that sucker for hours, figuring out ways to get the highest score.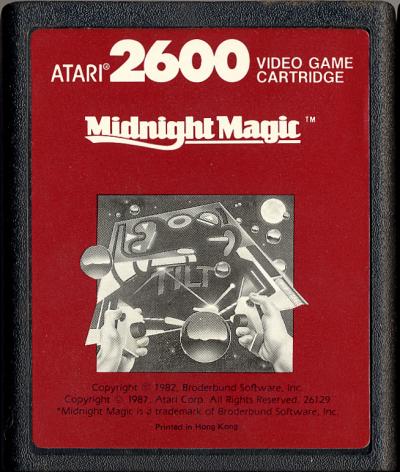 Midnight Magic is a 2600 convert of a slightly older Apple II computer game called "David's Midnight Magic." It eventually made its way to other 8-bit computer platforms like the Commodore 64 and the Atari computers. It is a pinball game, but much slicker than Atari's older "Video Pinball" cartridge for the 2600.
It was one of my first "red label" Atari cartridges, released in the late 80s, though it was programmed by General Computer Corporation in 1984, as part of a lawsuit resolution with a modification GCC was selling for Atari's "Missile Command" arcade units. (Many other mid-80s Atari 2600 games were programmed by GCC, and the Atari 7800 console's main chipset was desinged by them as well.)
Though I was late into the Atari world, since I was BORN during their reign over the living room, thanks, Atari, for the memories of Midnight Magic in my attic bedroom, in glorious black and white.